What's for LUNCH? - DeSoto ISD lunch menus and meal prices
LUNCH MONEY ACCOUNTS
Lunch Money Now Online System for Parents - click here to access your account
Lunch Money Now Overview - first-time users click here
RESPONSIBILITIES - DeSoto ISD has adopted and enforces the state policies to ensure that campuses are complying with vending machine and food service guidelines
- National School Lunch and Breakfast Programs
- Free Lunch and Reduced Price Meal Applications
- Student Meal Account Management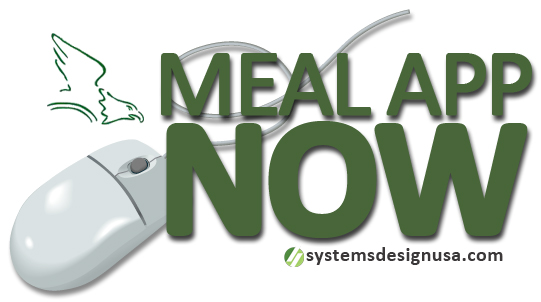 APPLY FOR FREE- OR REDUCED-MEALS ONLINE!
To qualify for free or reduced meals, please check with your school office for an application or click the online application icon below. Applying online is a quick, easy and secure way to apply and receive access immediately to approved accounts!
Smart Snack Calculator
foodplanner.healthiergeneration.org
Smart Snacks and the Texas School Nutrition policy update for 2015-2016. This changes will impact foods that are sold and provided to students during the school day.
www.choosemyplate.gov
My Plate ilustrates the five food groups that are the building blocks for a healthy diet using a familiar image-a place setting for a meal. Before you eat, think about what goes on your plate or in your cup or bowl. To learn more about building a healthy plate, visit http://www.choosemyplate.gov/food-groups/.
Non discrimination statement
www.fns.usda.gov/fns-nondiscrimination-statement
Sonja Jackson, Director of Child Nutrition
200 W. Parkerville Road, DeSoto, Texas 75115
Phone (972) 230-4780
Fax (972) 274-8264
sajackson@desotoisd.org
Child Nutrition Services Staff
CHILD NUTRITION PHONE NUMBERS:
- DeSoto High School 972-274-8140
- Freshman Campus 972-274-2519
- East Middle School 972-274-8163
- McCowan Middle School 972-274-8098
- West Middle School 972-274-8184
- Amber Terrace Discovery and Design Early Education Academy 972-274-8282
- Cockrell Hill Elementary 972-274-8087
- Moates Elementary 972-274-8079
- Northside Elementary 972-228-7929
- Ruby Young Elementary 972-274-8228
- The Meadows Elementary 972-228-7909
- Woodridge Elementary 972-274-8210
- Belt Line Center / AEP 972-274-8212 ext 490